Ths to Frontview Magazine for the nice feature -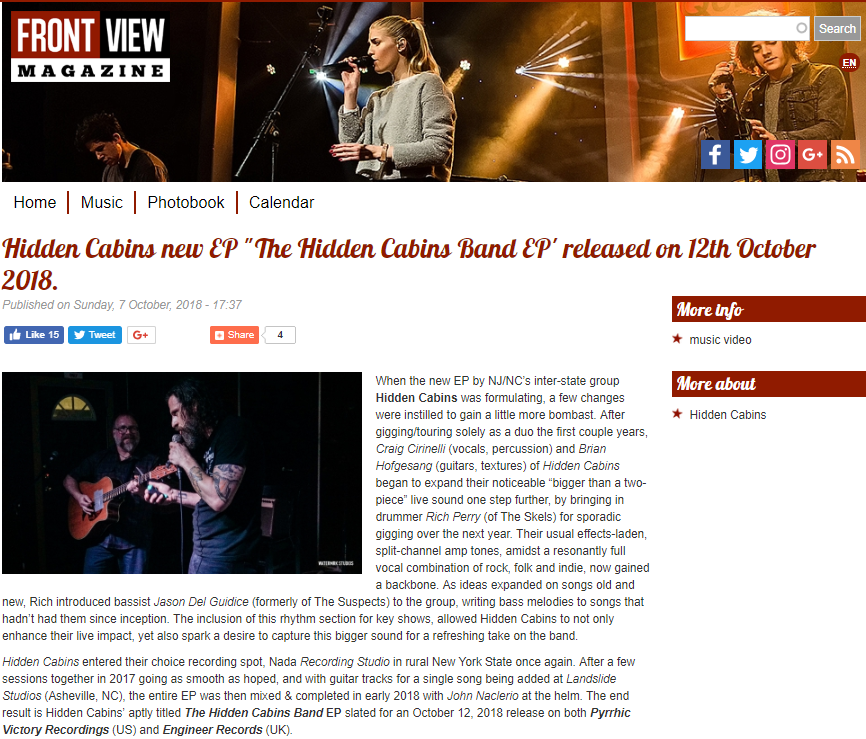 When the new EP by NJ/NC's inter-state group Hidden Cabins was formulating, a few changes were instilled to gain a little more bombast. After gigging/touring solely as a duo the first couple years, Craig Cirinelli (vocals, percussion) and Brian Hofgesang (guitars, textures) of Hidden Cabinsbegan to expand their noticeable "bigger than a two-piece" live sound one step further, by bringing in drummer Rich Perry (of The Skels) for sporadic gigging over the next year. Their usual effects-laden, split-channel amp tones, amidst a resonantly full vocal combination of rock, folk and indie, now gained a backbone. As ideas expanded on songs old and new, Rich introduced bassist Jason Del Guidice (formerly of The Suspects) to the group, writing bass melodies to songs that hadn't had them since inception. The inclusion of this rhythm section for key shows, allowed Hidden Cabins to not only enhance their live impact, yet also spark a desire to capture this bigger sound for a refreshing take on the band. 
Hidden Cabins entered their choice recording spot, Nada Recording Studio in rural New York State once again. After a few sessions together in 2017 going as smooth as hoped, and with guitar tracks for a single song being added at Landslide Studios (Asheville, NC), the entire EP was then mixed & completed in early 2018 with John Naclerio at the helm. The end result is Hidden Cabins' aptly titled The Hidden Cabins Band EP slated for an October 12, 2018 release on both Pyrrhic Victory Recordings (US) and Engineer Records (UK).