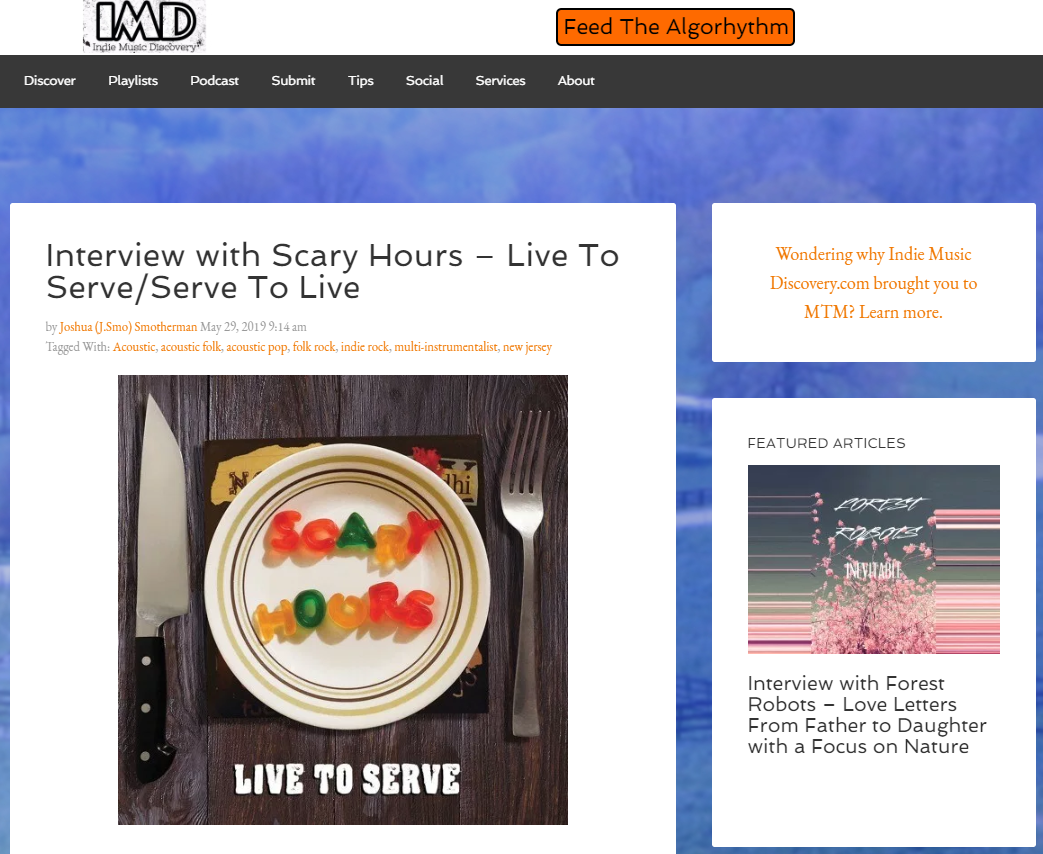 In this interview spotlight, I chat with Scary Hours about their latest release, challenges, technology and more:
How has the dichotomy between NJ and NYC influenced your music? 
Commuting to and from NYC gave me a lot of time to be alone with my thoughts, which was both good and bad.  Being in Manhattan can sometimes be so jarring to the senses, and on top of feeling like I was in crisis mode regarding my career path at the time, it was a chaotic and bittersweet experience that gave me lots to write about. 
What led you down this path of acoustic punk and what motivates you to keep going? 
I grew up on a lot of skate punk and hardcore stuff which influenced the music itself.  Choosing this format was more out of necessity than anything else.  I wanted to make punk rock "singer-songwriter" type thing, but I wouldn't be able to do that live, so I stripped the songs down to bare bones.  I liked the way the songs came out acoustic, so I just keep rolling with that! 
How is did release come to be handled by Pyrrhic Victory? 
I've known Joe the owner for a long time from playing bass in The 65s.  I was just casually sharing some of my acoustic "demos" with him one day, and he was really impressed and told me the door was open if I ever wanted to come do a record with PVR.  I continued writing and recording, sending him and the other PVR partners what I'd been working on and everyone was on board with putting the record out. 
Name one or two challenges you face as an indie musician in this over saturated, digital music age? How has technology helped you (since we know it does help)? 
It's a little tough getting strangers to listen to the music when there's so much music to be heard, although people do seem to be picking up on this one.  Streaming services like Spotify are great because, as a fan of music, the world is at your fingertips.  It's tough not making much money because it costs a lot to make and put out a record, but I feel like I need to do this so I'm going to keep on trucking!  Technology has been incredibly helpful in the aspect that I can really hone in on fans of this type of music and engage with them.  Not only is it great to experience people listening to my music, but there's a sense of community when you start finding other people who like the same music.  I've made a lot of friends all over the country via social media who have offered shows and places to crash.  YouTube is also a great way to reach people and offer a visual.  Ghettoblaster premiered the video and people have been responding to how colorful and moody and awkward it is!  (https://www.youtube.com/watch?v=umPHBY5sPII) 
What was the last song you listened to? 
"The Decline" by NOFX.  18 minutes well-spent. 
Which do you prefer? Vinyl? CDs? MP3s? 
I think the best way to listen to music for quality is CD, but MP3s are so portable.  I have 15 gigs of essentials on my phone that I keep on at work.  Can't do that with CDs!  There is one exception, though: I'm convinced jazz, swing, and blues sound better on vinyl.  I have a ton of Sinatra, Nat King Cole, Sarah Vaughan, etc. records that sound so great on vinyl. 
How about this one…. Do you prefer Spotify? Apple Music? Bandcamp? Or something else? Why? 
Bandcamp is probably the most artist-friendly format and I really like that.  You can stream songs a few times, then it starts asking you to support the artist.  Most bands have links for merch so you can buy physical copies.  I also like the visual aesthetic of Bandcamp pages.  Spotify seems to be the way most people listen to music these days, though, so if I'm listening to oldies or 90s, I'll head over there to stream. 
Where is the best place to connect with you online and discover more music? 
My favorite social media platform is Instagram, so please reach out to me on there!  It just makes things more personal.  I share things going on in my life, and I get to see what your life is like.  So please, follow me on IG: @scaryhoursnj .  You can find me on Bandcamp if you want to buy a physical/digital copy, but we seem to be accumulating the most streams from Spotify for the record.  There's also a wicked full-band cover of the Elliott Smith classic "Angeles" up there. (https://open.spotify.com/album/45792jSuMpcsfaI2n9ktJI) 
Anything else before we sign off? 
Listen to Scary Hours on Spotify 
We are having a release party at the Harp n' Bard in Clifton, NJ on Saturday June 15th with some great bands: Fairmont, Nine Eighteen, and Holler and the Hand.  Oh, and the song "Daisy" is definitely NOT about a girl!  Thanks for having me, follow me on Instagram, peep the album on Spotify, and let's be friends <3