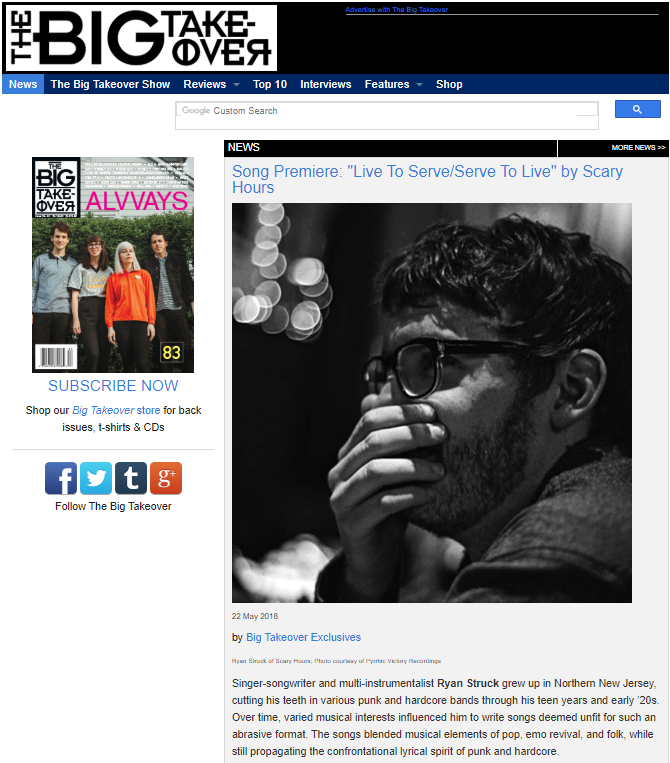 Singer-songwriter and multi-instrumentalist Ryan Struck grew up in Northern New Jersey, cutting his teeth in various punk and hardcore bands through his teen years and early '20s. Over time, varied musical interests influenced him to write songs deemed unfit for such an abrasive format. The songs blended musical elements of pop, emo revival, and folk, while still propagating the confrontational lyrical spirit of punk and hardcore. 
Reluctant to coin himself as a solo artist, Scary Hours was conceptualized with the intent of writing stripped down acoustic songs that could feature a revolving door of guest musicians, either live or in future studio releases. 
Scary Hours' introductory release, "Live To Serve/Serve To Live", which premieres here, are available today via Bandcamp and an upcoming Scary Hours full length is in the works. 
The self-produced LP paints a bleak landscape of a defeated individual searching for meaning in the shadow of the New York skyline. The lyrics are unabashedly grim and sarcastically self-deprecating, yet, somehow playful; Struck conveys a profound desolation while managing to poke fun at himself.