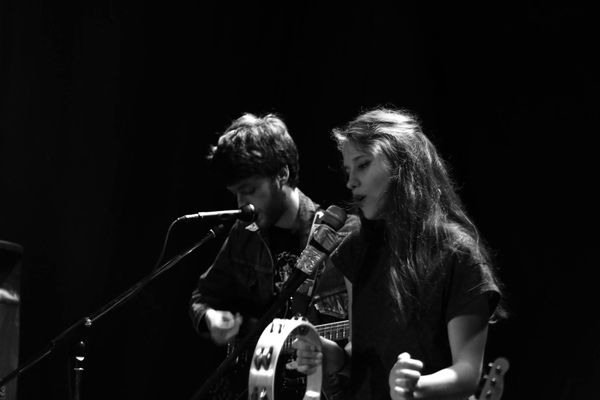 Leo Puy - Guitars and Vocals
Cassandre Arpin - Percussion and Vocals
Encouraged and inspired by the French musical collective Jericorp, who described the band as "A gathering of Chris Isaak, lots of love and too much Cough Syrup, playing a Western movie soundtrack with some Brian Jonestown Massacre and other psychedelic formations echoes", France's Elvyn Rhud have just released their first recorded work: "People In Hampton Court Don't Care About Dying", a psychedelic anthem to the land they love, where they met two years before, London. The song was released initially to promote their first gig in south of France in late February with The Dead Mantra & Abraham Murder.   

The band was born when first flatmates, then couple Leo and Cassandre started collaborating musically out of what was initially a solo project. Cassandre started adding percussion and vocals to Leo's drone guitar and dark vocals, which completely altered the sound and direction of the project, described by former bandmate of Leo's guitarist Michael Ridley as "Some sort of Morricone style Gainsbourgy Bluesy thing." 

They have been writing and composing in the deepest secrecy, as they absorb the sounds of those that inspire them such as Aqua Nebula Oscillator, The Oscillation, The Growlers, Palm Cross, Flavien Berger, Mouncey Street, and others.  

The song came to Pyrrhic Victory Recordings' ears who asked for more, building a cross Atlantic Ocean friendship and the release of a split 7" with label mates Alpha du Centaure 9.28.18 with a follow up EP in the works. Check out the split 7" below.