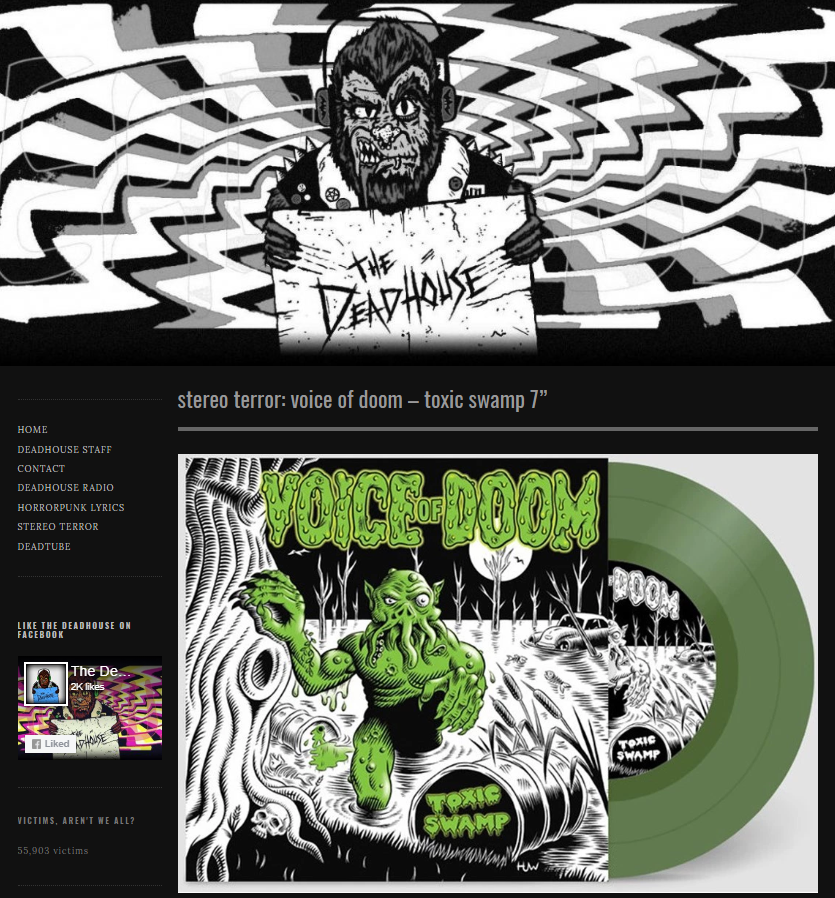 Where to even begin with a band like Voice Of Doom? Originally formed back in 1983, the band toiled around for several years until disbanding in 1988. From there, miraculously the band would come back together in celebration of their 25thanniversary where they somehow found a brand new following and have been slowly plugging away ever since. Their newest release, Toxic Swamp, is currently set to be released on good ol' Halloween, and the band have put together an excellent limited edition for fans and collectors alike. 
Limited to only 100, I was lucky enough to be sent an advanced copy of the wicked swamp green 7″ featuring one track per side. Now, I have admittedly only really gotten into the vinyl collecting business in the past two years or so, but was lucky enough to come across a vintage old school egg shaped player with two speakers at an antiques shop last summer, and shockingly, this is the first time I've had a review lined up where I got to use that bad boy, so I was excited as I threw on side one of Toxic Swamp featuring the titular track. Heavy yet melodic, it's a great track to bang your head to. If this song is an indication of what we can expect on the new LP the band is working on, then we are all in for a treat. 
On the flip side, you are greeted with the creepy visage of Robert Blake as the Mystery Man from Lost Highway, as that is the inspiration for the song of the same name that plays on the second side of the record. Much like its counterpart, it is a fast and catchy track, very reminiscent of early Danzig-era Misfits. 
The album may only be two tracks, but they are a damned fun two tracks. To me, the real value in this bundle is the awesome artwork and wicked swamp green vinyl. Something perfect for horrorpunks and record collectors everywhere! 
You can pre-order your copy of Toxic Swamp at the Voice Of Doom Bandcamp page and be sure to give the band a Like on their Facebook page to stay updated with everything they have going on! 
Killer Track 
"Toxic Swamp"